A Complete Hours of Service Solution for the ELD Mandate
Samsara's technology platform combines Hours of Service with rich GPS and sensor data, ensuring compliance, increasing safety, and streamlining day-to-day operations.
FMCSA Certified
FMCSA-approved ELD. Future-proof solution for HoS logging and certified compliance to meet the ELD mandate.
Modern App-Based System
Samsara's Driver App brings ELD capabilities to any Android or iOS tablet, avoiding the cost of proprietary e-logging hardware.
A Complete Solution
Hours of Service, GPS, WiFi, sensor data, dispatch & maintenance in a single system simplifies management & lowers cost.
How It Works
ELD Compliance Using Samsara
Vehicles transmit live data via Gateway.
Drivers log hours using Driver App.
Managers track HOS logs & violations in Dashboard.
Benefits & Features
A Complete System for your Entire Organization
Fleet Managers
Compliance
Drivers
Maintenance
Fleet Managers
Improves Productivity
Beyond Hours of Service, Samsara provides business-relevant data that improves efficiency
Lowers Compliance Cost
Samsara's architecture can achieve compliance at half the cost of traditional systems
Accelerates ROI
From eliminating wireless data fees to reducing engine idling, Samsara is designed for rapid ROI
Driver App includes HOS plus vehicle inspection reports, dispatching, and navigation
Vehicle Gateway includes WiFi hotspot, connecting Driver App without cellular data costs
Maintains Compliance Everywhere — Even Without Cellular Reception
Samsara enables operators to use WiFi devices without costly cellular data plans. Moreover, since the device connects directly to the Samsara gateway over WiFi, the ELD communicates the necessary engine status updates to the driver's device even in areas without cellular coverage, maintaining compliance at all times.
Plug & play installation takes less than 10 minutes. No IT infrastructure or complex configuration required
Compliance Managers
Reduce Risk
Avoid regulatory fines that put your profits at risk
Increase Efficiency
Streamline record keeping to simplify administration
Improve Safety
Keep your drivers safe and avoid fatigue-related accidents
Real-time visibility into drivers nearing or in violation mitigates compliance risk
Compliance managers can review driver logs in real time and suggest edits from the Samsara dashboard
Track unassigned HOS logs and assign to the correct driver with a single click
Fast, seamless updates ensure you're always compliant with changing regulations & rulesets
Drivers
Easy to Use
Driver App modeled after familiar paper logs, simplifying training for drivers
Saves Time
With a streamlined interface, drivers spend less time doing paperwork and more time driving
Avoid Errors
Easy-to-use app prevents log errors that can jeopardize compliance
Set duty status with one-click. Automatic updates when driving starts or stops
Easily add, update, review, and certify Hours of Service logs
Receive real-time alerts when nearing violation
Approach DOT inspections with confidence
Maintenance & DVIR
Fewer Compliance Errors
Streamlined reporting, resolution, and certification prevents compliance errors
Faster Repairs
Mechanics see new issues instantly, for faster resolution and less downtime
Paper-Free
Simplifies operations for drivers, mechanics, and compliance managers
Closed-loop communication flow prevents maintenance and compliance errors
Automatic photo upload and one-click certification simplifies drivers' daily routine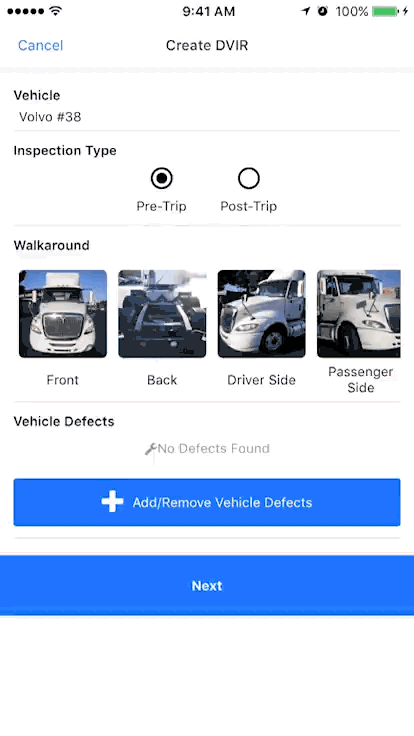 Mechanics have real-time visibility from an easy-to-use maintenance dashboard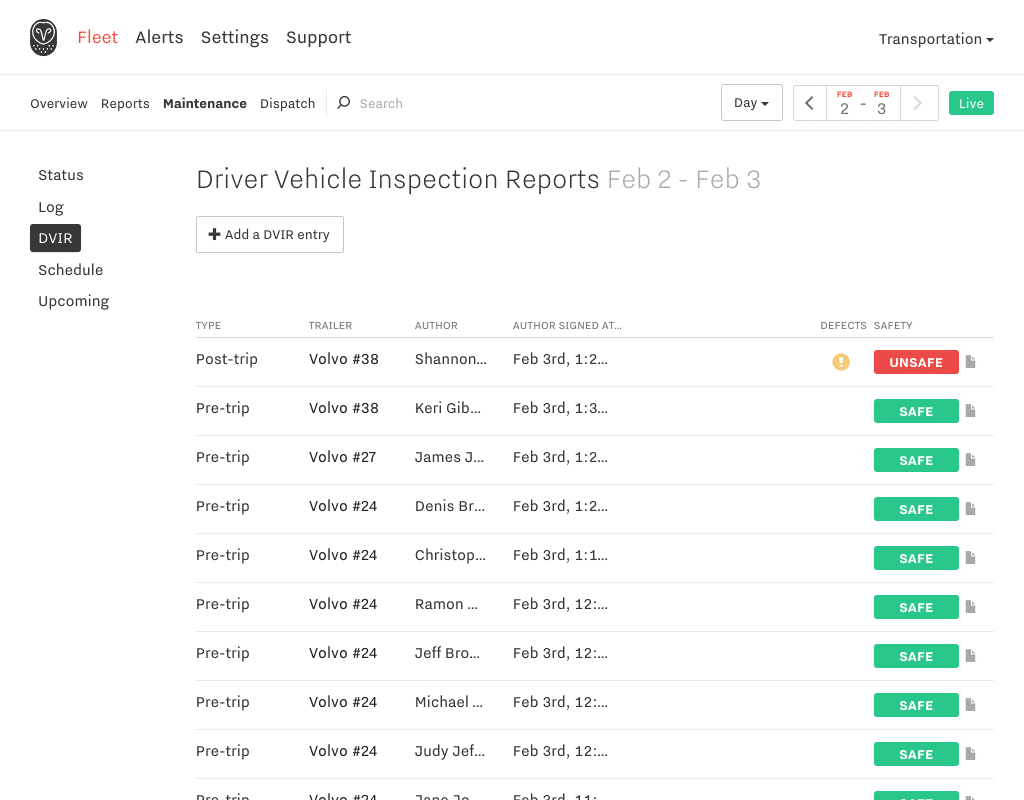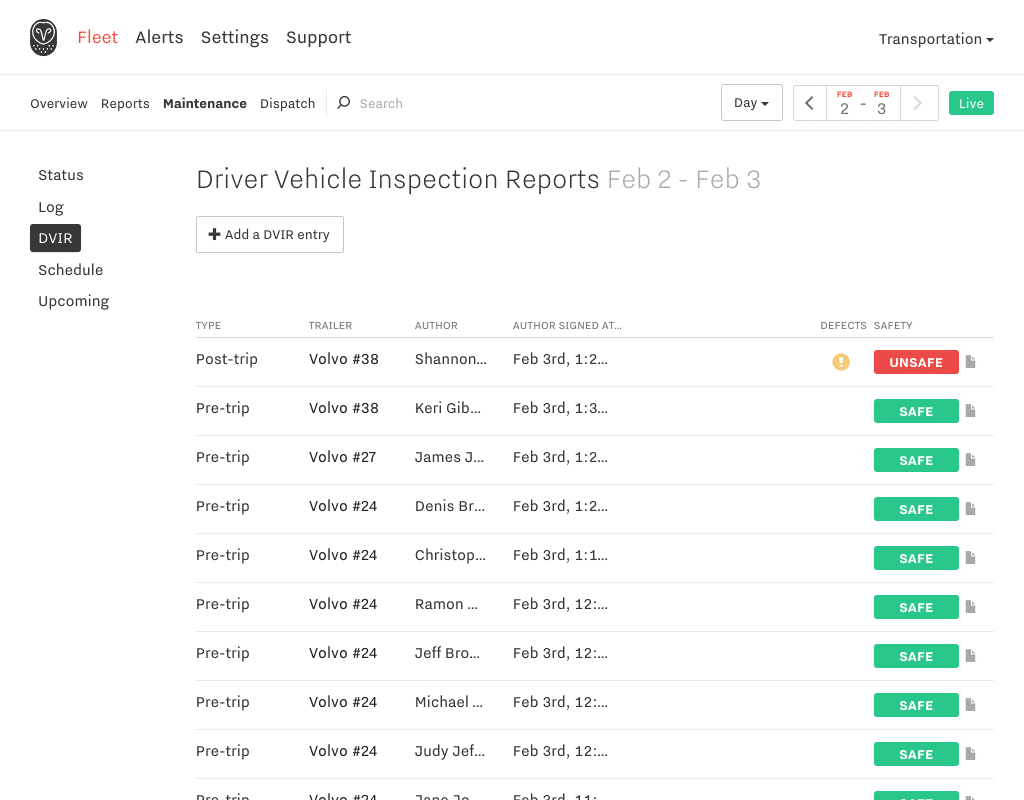 Drivers are automatically prompted to certify safety based on previous reports and repairs