Samsara for
Transportation & Logistics
A sensor solution for streamlining operations, improving safety, and maximizing ROI
Request Free Trial
Live, End-to-End Visibility
From line haul to local, follow trips on the road so you can have peace of mind that your fleet is covering ground safely and efficiently.
Decrease Operating Expenses
Keep your operations running smoothly and improve margins with efficiency reports on fuel consumption, idle time, vehicle utilization, and time on site.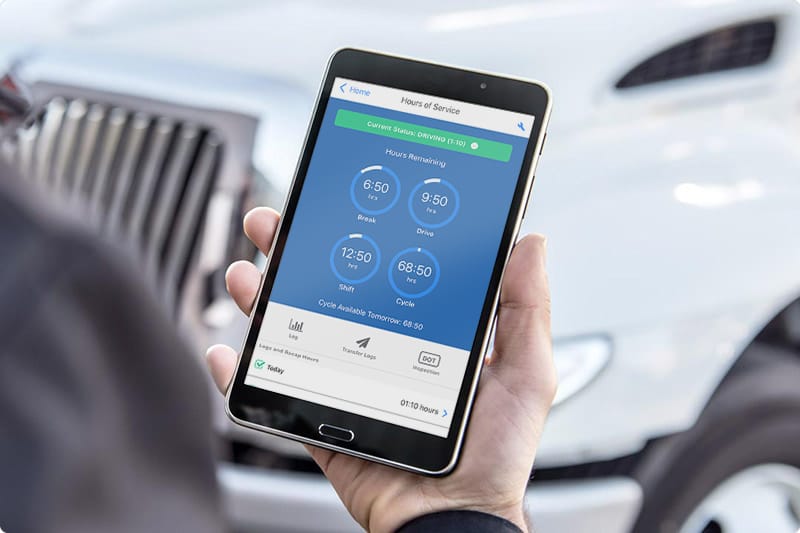 Simplify Compliance
Keep your fleet compliant with a certified ELD solution that works on any Android or iOS device and an integrated platform that combines Hours of Service, maintenance, and WiFi hotspots. Learn more
Promote Fleet Safety
Get the full story on accidents and near misses with high definition video footage and AI-powered reports that detect distracted driving and tailgating. Learn more
Customer Spotlight
Dohrn Transfer Company
"Our goal in safety is to train our drivers to be defensive and maintain good distances. Samsara automatically populates the information we need for our safety program. In just a few hours a week we're able to audit nearly 700 drivers' safety and create the feedback forms we need. We've already seen a big reduction in violations."
Troy Winthurst, Director of Safety
Read the case study
Streamline Maintenance
Save on costly repairs with real-time engine fault codes, preventative maintenance schedules, and app-based paperless DVIRs.
Create Better Routes
Robust route analytics help you track on-time performance while route optimization enables you to chart the most efficient path. Learn more
Keep Assets Safe
Receive instant alerts for unauthorized movement, open doors, and unloaded cargo so you can protect your assets. Learn more