Samsara for
State & Local Government
A modern, affordable sensor solution to deliver citizen services safely and efficiently
Check our prices
Increase Operating Efficiency
From public works to sanitation and safety, streamline operations while enhancing public perception. Look up vehicle trip histories and review auto-uploaded video footage to easily verify service, respond to questions, and investigate complaints.
Streamline Maintenance and Reduce Downtime
Lower costs and extend asset lifespan with preventative maintenance based on mileage and engine hours.
Instantly Locate Vehicles and Assets
Simplify day-to-day operations, eliminate vehicle hunts, and save precious seconds during emergencies. Live-to-the-second GPS tracking gives fleet managers the status and location of every vehicle.
"We've become 'fleet aware' - we know how, when, and where our fleet is functioning and use the information to improve our operations."
TONY JONES, FLEET MANAGER, CITY OF COCOA
Save Taxpayer Dollars
Coach your drivers to reduce idling and make the most out of tight budgets. Increase productivity with in-cab WiFi, included at no cost with the Samsara fleet solution.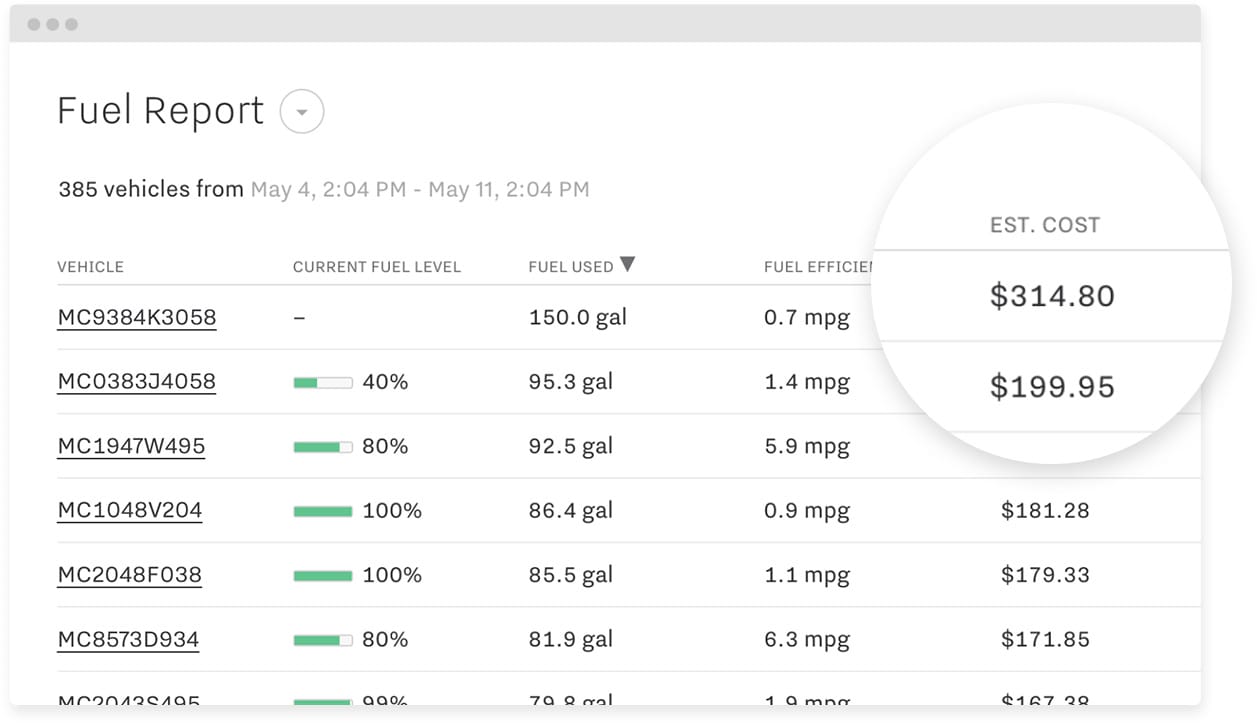 Right-Size Your Fleet
Inform city purchasing decisions with comprehensive utilization reporting. Identify heavily or unused assets to justify fleet expansion or recoup costs.
"Peace of mind is why I need Samsara. When a deputy is on a back road and stops a vehicle at 3 a.m., I need to know they're safe."
JEFFREY MURPHY, SHERIFF, WASHINGTON COUNTY, NEW YORK
Simplify Reporting & Administration
Engage stakeholders with intuitive reports that can be viewed on request or scheduled in advance. Simplify administration with scheduled reports and open APIs to existing systems.
Recover Lost or Stolen Assets
Keep track of all your unpowered assets - from dumpsters to porta-potties, to radar speed signs. Automatically detect theft with geofence alerts and find misplaced assets with regular location check-ins.
Easily Integrate Systems with Our Open API
Integrate existing GIS & asset management software with your Samsara dashboard at no additional cost.
Provide Visibility to Fleet Managers Across Departments
Tagging functionality simplifies administration, allowing easy creation of department- and role-based permissions and reports.